1941 Schwinn Lightweight
---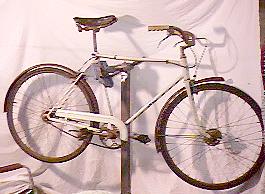 I got it from the original owner who bought it new in 1941. New world headbadge, perfect fenders, misguided effort of a birthday gift by painting the frame and fork. "Schwinn Built" brake calipers. Superior hanger set with the "A S & CO" chainring. High flange front, high flange freewheel rear. Fenders are dentless and have the original paint and gold pinstripe. The seat post is bent an inch or so forward. It is a 21" frame.
---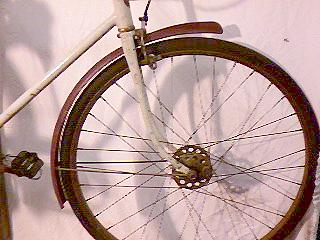 High flange front hub. Pinched fender. "Schwinn Built" script on the brakes and a veeder type of odometer.
---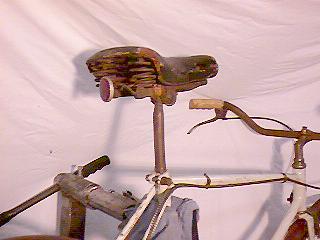 Mesinger leather seat, a little rough around the edges. Glass reflector. Original cloth covered brake cables.
---
Single speed, rear high flange, free wheel hub. Schwinn script. Fender is missing bottom brace. 26" x 1 3/8" tires.
---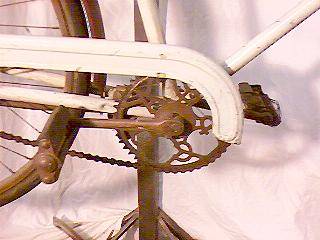 Superior crankset. "AS & CO. chain ring. Hockey stick prewar chainguard.
---
Again, cloth covered brake cables. Chrome is cleanable.
---
BUNCH "O" BIKES
BUNCH "O" BIKES UNDER CONSTRUCTION
BUNCH "O" BIKES NO LONGER WITH US
REPAIR AND RESTORATION TIPS
STUFF FOR SALE
Questions? Send an email
This Page Copyright (©) 2001