Bikes For Sale
---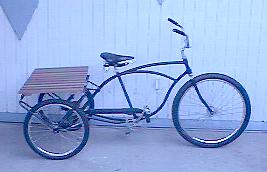 Stretch cruiser. 1980 frame. 26" front ballooner wheel, 20" S7 rear wheels. Great cruiser for swaps and such. Finished in flat black. $400 shipped, or make offer!!
SOLD!!
---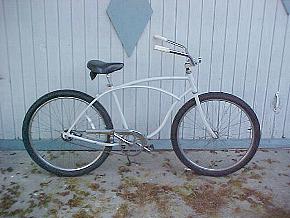 Here is a fun, ready to go cruiser. If I remember correctly, it is a 1980 model. I painted it PPG's Northwest Orient White. Non-S2 wheels ( aftermarket ), Worksman saddle, BMX type of stem, flashlight holder, Wald chainguard, white Schwinn grips, bolt on kickstand and BFG type of tires. Email for more details! $120 shipped.
SOLD!!
---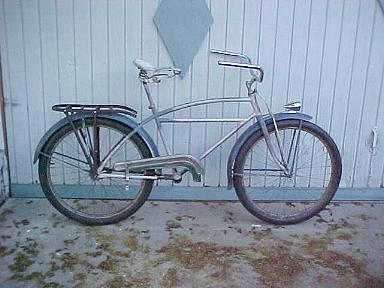 1936 Schwinn Motorbike / Cycleplane. Get a tank and you're there! Okay, does need a stand and the Silveray guts. Even comes with two chainguards. Rear fender needs the fender skirt holes filled. The seat stays were repaired at one time, looks okay. A project ready for you to begin!! Email for more details! $800 shipped.
SOLD!!
---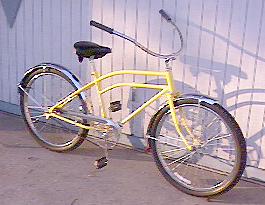 Prewar Hawthorne Zep. Bill Jones says "Sell My Bike!!!" Powdercoat yellow, aftermarket rims, EVERYTHING rechromed, BFG type of tires, Wald fenders and chainguard, 1/2" pitch chain on an Autocycle type of skip tooth chainwheel ( huh? ), SUPERWIDE handlebars, cruiser cool saddle! This one gets those people stopping you to talk about bikes! Just ask Bill!! Email for more details! $850 shipped.
SOLD!!
---
Questions? Suggestions? Send an email
This Page Copyright (©) 2002